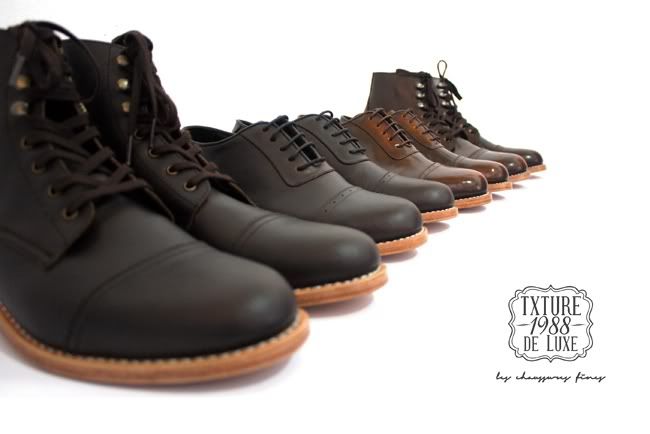 We are very proud for achieving the next level of shoe making. The series, as how it is named after, is the deluxe edition of all Txture Series. The best materials and construction are attached to the products. High-Grade Brush-off and Pull-up Leather for Upper, imported Italian Leather Outsole and Goodyear Welt Construction are the names that guarantee how the products of the series can be the pride for all; the makers and the owners.
Txture De Luxe 1988 Series has two basic models; Boots and Oxford Shoes. Boots are made into two types. The first one is made using Pull-up Leather for upper, while the second one is made using Brush-off Leather with distinguished brogue on its shoe cap. Another model of the series, Oxford Shoes, is also available in two variants. The ones using Pull-up Leather and the ones using Brush-off Leather.
As mentioned above, all products are made by the best materials. All products use imported Italian Leather Outsole with Goodyear Welt Construction. This type of construction is a high quality construction that makes the shoes durable. Beside those names, the products use cow leather lining for the entire inner upper part, vegetable natural leather insole, and high-density rubber top heel.
The products are sold in a package that includes shoecare instructions, a pair of socks, extra laces, stickers and other extras. Wrapped in a box bag, the Txture De Luxe 1988 Series will be kept safe and definitely be the best choice for your collection.
The upcoming Txture Series is now available. Joining the most-awaited event in Jakarta, Brightspot Market 24-27 November 2011 at Plaza Senayan Jakarta, Txture will launch the series at this event.