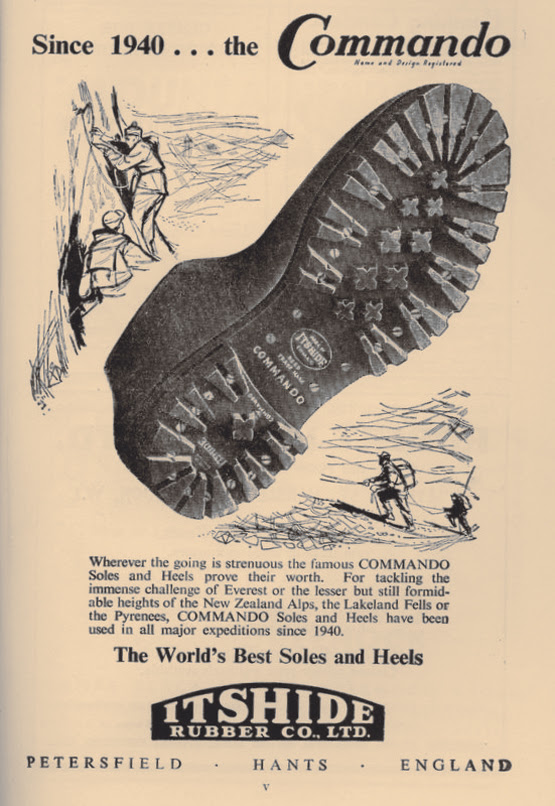 Dependable, long-lasting, trusted, proven
The Commando sole is one of the most recognizable designs and is steeped in history. The ITSHIDE Commando collection is no exception. We can trace ours back to the regulation British Army boots from the 1940s. Below is a vintage advertising poster from our archives.
Today the classic design is as popular as ever with top footwear brands, providing the best grip for countryside boots – and a rugged look for city casual shoes. Made of high-quality rubber, they are hard-wearing and comfortable too.
A BRIEF HISTORY OF THE COMMANDO
This vintage advertising poster was recently sent to us from a footwear historian.
It's about 60 years old – and it reveals the extraordinary history of the ITSHIDE brand
1940: Worn by the British Army... The military first recognized the quality, comfort, and durability of Commando soles and heels, and authorized them for British Army use.
The 1950s: Worn by explorers… to the North and South Poles. The Norwegian-British-Swedish Antarctic Expedition (1950), the British North Greenland Expedition (1951) and the British Commonwealth Transantarctic Expedition (1956/7).
Worn by mountaineers… climbing Mount Everest (1951) and the peaks of the Himalayas (1952).
More recently, footwear designers have joined the ranks of climbers and mountaineers acclaiming these 'world-famous, sure-footed' soles and heels.
Today, Commandos continue to give rigorous service to discerning consumers around the world.
Photos & Words By ITSHIDE